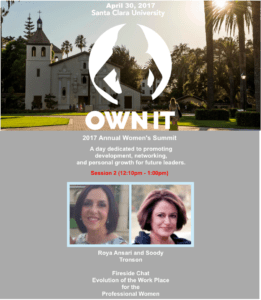 Join Soody Tronson and Roya Ansari for a fireside chat "Evolution of the Work Place for the Professional Women" at the OWNIT 2017 Annual Women's Summit at the Santa Clara University.
Roya and Soody's conversational and interactive exchange will take you on a personal journey of experiences and lessons learned.
OWNIT is a day-long program dedicated to promoting development, networking, and personal growth for future leaders. The Summit is an empowering day-long conference that brings together students looking to gain professional skills, as well as grow into confident and independent women. Put on entirely by SCU students, OWN IT, through an exchange of advice, ideas, and stories, connects with the successful women of today's business world in a comfortable and accessible environment.
Date: Sunday April 30, 2017
Time: 8:30 AM – 3:45 PM PDT (fireside chat: 12:10-1 pm)
Venue: Santa Clara University, Benson Memorial Center, 301 Market Street Santa Clara, CA 95053
View Map